At LiveFit we not only have a program to achieve your goals, but we also include EVERYTHING you need to make a head-turning, confidence boosting transformation.
On the page below you'll find our bootcamp registration options. First you'll find our Lite, Essentials and Pro plans, where you will have the option of adding a spouse or family member for a 20% savings and our $50 off senior discount for clients over 65 years old. 
Next you'll find our "Community Hero's" options for Military, Police, Firefighters, Nurses, Teachers and County Employees. Employees of these local public service providers receive a 20% discount. (*please bring appropriate identification to your first workout)
Lastly, you'll find our new Kids Bootcamp group (8+) that meets Monday – Thursday each week at 6:30pm. We'll get 16 workouts together each month for just $60. It's a great way to build strength, confidence and healthy lifestyle habits while they're young!
Please look through the different options and if you have any questions you can text Derek 727-810-4005. If you have any questions with your existing plan or need to cancel your old plan, please text Michelle Kuryliw 727-267-1117 for any questions or help.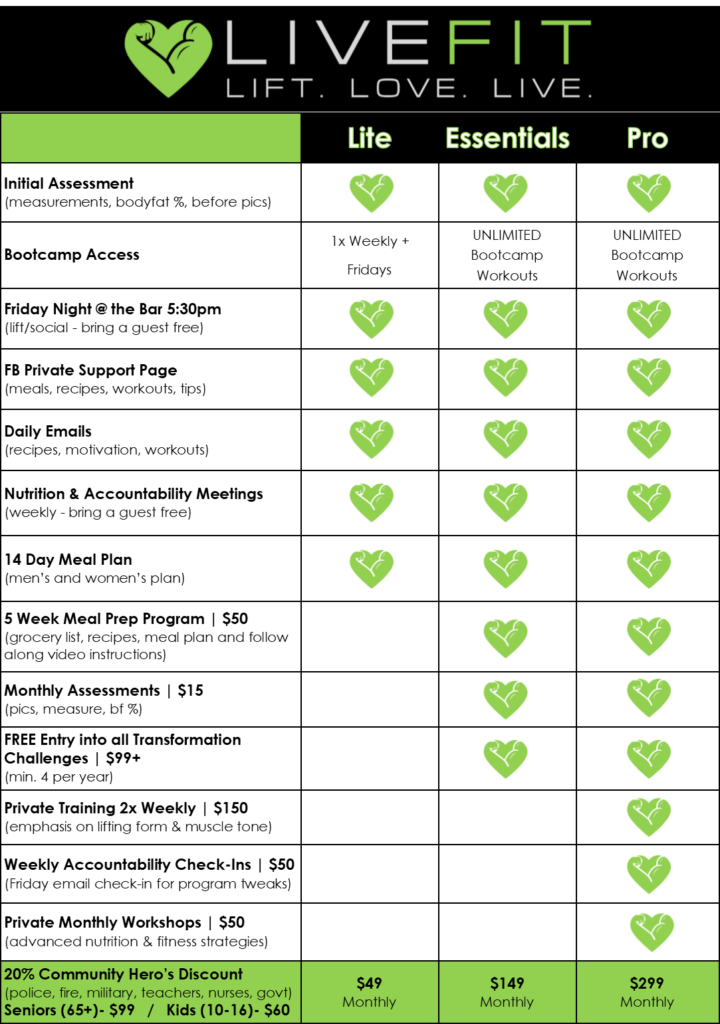 ---
---
ONLINE REGISTRATION ONLY. No Payments Accepted on site. No Contract, Cancel Anytime prior to your next payment. No refunds on completed payments.
I stand behind my fitness, conditioning and nutrition programs and for that reason I offer a 100% satisfaction guarantee.
If at anytime you feel you are not the person I described above, simply cancel by completing your cancellation request on DerekKuryliw.com/cancel. It's that easy!