Running a business is HARD. Some will never know.
The average gym runs on 9 to 12% profit margins and the average restaurant runs on 5% profit margins.
I know everyone is excited for their favorite gyms and restaurants to reopen, but opening at 25% or 50% capacity is the quickest way for your favorite gym and restaurant to close again for good.
Be patient with these business owners as we try to learn how to….
1.) create a brand new business that can operate at 50-75% less capacity
2.) without charging you the customer more money
3.) without cutting pay or hours of their employees (because now the SBA will punish you)
4.) somehow still be able to pay the bills and keep the lights on after a drastic income reduction the past 8 weeks and SBA loans only going to big businesses
Entrepreneurs start a business to solve a problem and help people, and we cannot wait to get back to doing that in person again soon!
But in the meantime, I could REALLY use your help and I'm pretty sure I can help you too…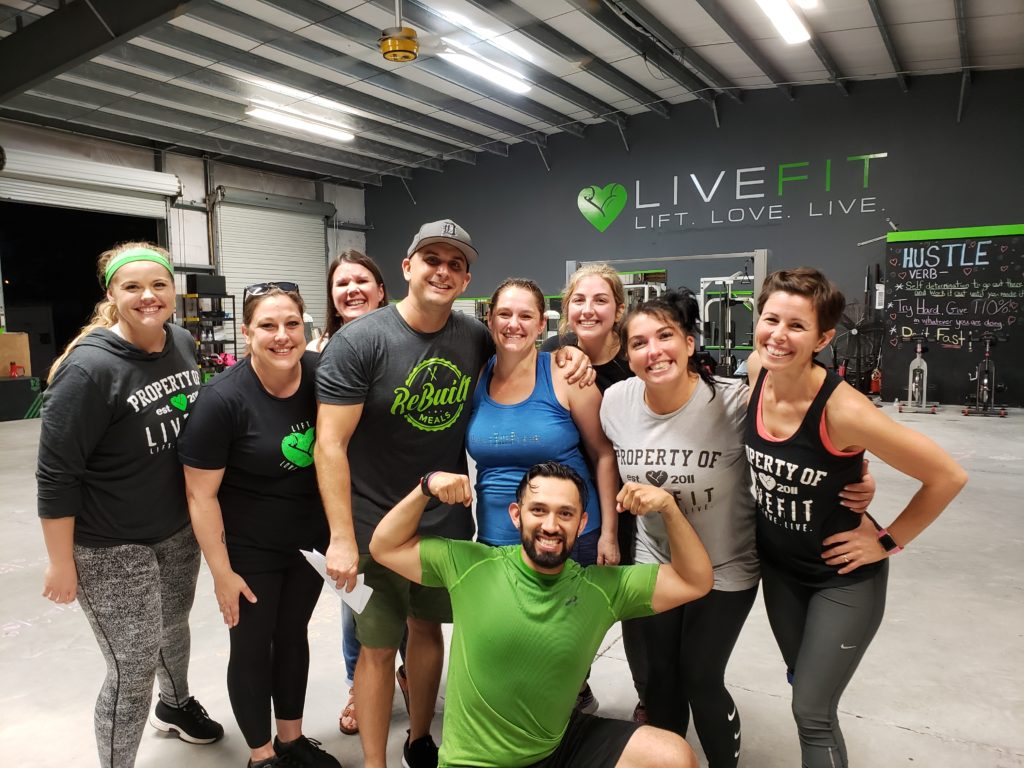 Since quarantine began my team of trainers has been working hard to provide:
➡ awesome live daily workouts on Zoom (6am, 9am, 5:30pm)
➡ new pre-recorded workouts nightly on our support page
➡ texting our clients weekly for accountability
➡ creating engaging games to unite our community
➡ shooting videos to help clients with strategy and motivation
NONE of them filed for unemployment and ALL of them wanted to continue to working to help our LiveFit members, even though they could have made way more money on unemployment as many other Americans have.
My team hustles, they love what they do and they are GREAT people.
Now we need to help more people in our community re-establish their health, get their nutrition back on the rails and get their beach body ready for summer 💪🔥
AND this will get my team back to work full time. WIN-WIN!!!
Below you'll find 2 options to work with our team and help stimulate the fitness economy while stimulating your metabolism…
---
Option #1 – $49 LVFT Virtual Training & Coaching 30 days
This option is for new clients or to purchase for a friend or family member.
This deal will save you $100 off our normal pricing and you'll get 30 days of the LiveFit virtual experience for just $49.
This offer is for new clients only or you must be an inactive LiveFit client for more than 30 days to qualify.
---
Option #2 – Private 1 Hour Consultation w/ Derek & Your Favorite Trainer
This option is for new clients, previous clients and current clients
Do you ever just wish you could pin us down for an hour and pick our brains? Like how Micki stays motivated, or how Rolo and Ashley have trained for fitness competitions?
This is your chance to spend 1 hour of undivided attention on you, your goals and strategies we've used to help you get there!
We will send you a "goals and struggles" questionnaire after you register to make sure we cover the every topic that you need help with most and get the maximum value out of this.
Limited spots are available. After you register I will contact you to arrange a schedule!
---
Together we all win!
Remember that restaurants, gyms, hair salons, dental offices, chiropractors, massage therapists and so many other personal service providers need your support and patronage right now.
If we all come together in this time we can stimulate our local economy, improve our health and still maintain safe social distances.
We ALL want things to go back to normal, but in the meantime we need to do the best we can with the best we have!
Thank you for you love, trust and support over the last 9 years 🙏
Committed to your fitness success,
The LiveFit Team – Derek, Michelle, Ashley, Rolando, Micki, Skyler, Hunter and Nicole