Injured, Weak or Out of Shape…Is LiveFit Right for You?
Hours & Frequently Asked Questions
What kind of workouts do we do?
In short, anything and everything. We have never repeated the same workout twice…Never! Mostly we do bodyweight exercises including strength training, toning and endurance. We also do plyometrics, core strengthening and abdominal work. We do athletic speed and agility drills to get you quicker on your feet as well as battle ropes, resistance bands for toning the back of the arms, obstacle course days, some dumbbell exercises, lots of abs, weight training and some things that are just off the wall (you'll have to wait to find out)!!
How often should I attend bootcamp?
Click the picture below to see the current bootcamp schedule. My goal for every client is to see them 4 times each week, Monday- Thursday. We work the entire body over the first four days of every week so you'll work a different muscle group and have a completely new experience every workout!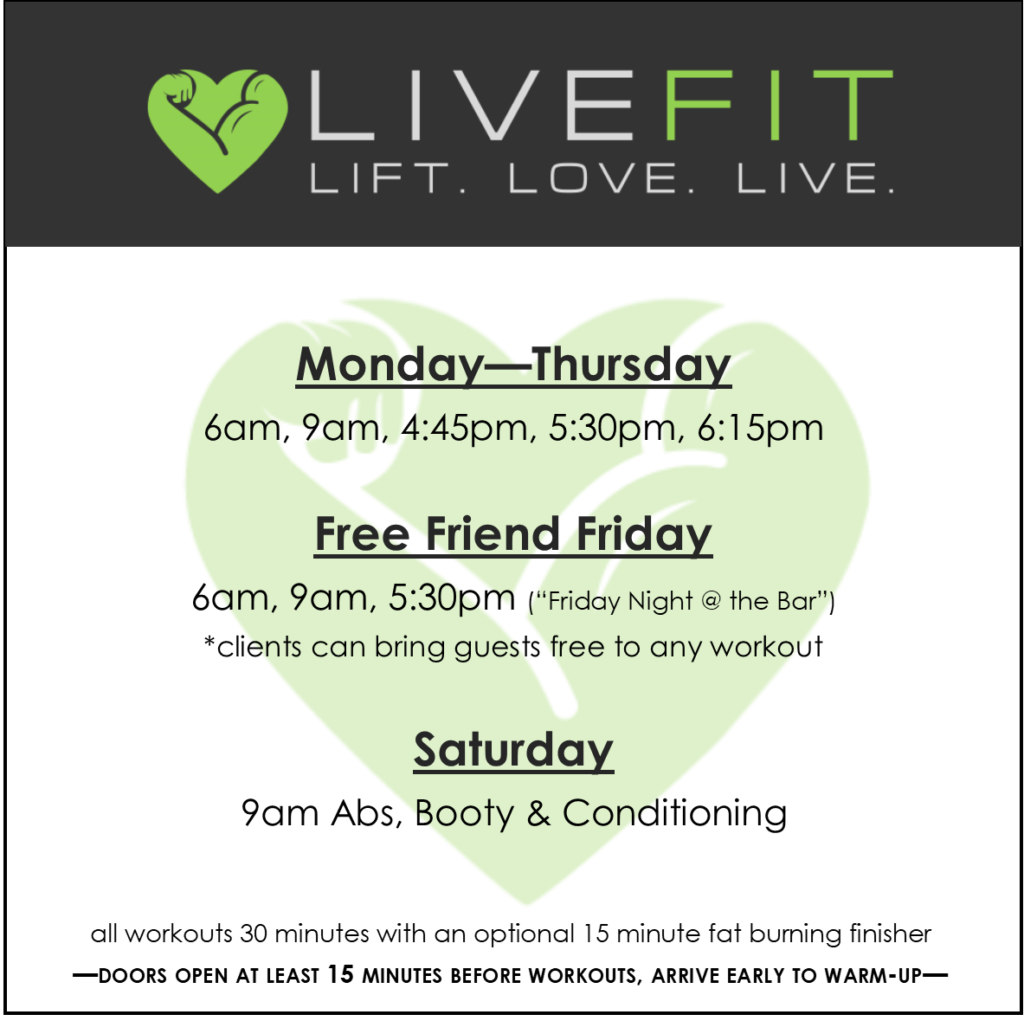 LIKE us on Facebook
When does the next Boot Camp Start?
Sessions are currently forming and depending on your fitness level, most people are able to start at anytime. Due to the format of my bootcamp, people of every ability level can all work together.
For beginners, I always recommend to come to our 6:00am, 6:00pm, or 6:30pm sessions. While we do the same workout as the other groups, the pace is slightly slower with longer breaks and more personal instruction.
What do I need to bring?
A great attitude, a towel, a big water bottle, comfortable exercise clothing and running shoes. I provide everything you need!
Is there an age limit to join?
Yes, we work with clients 18 and over. In some circumstances we have taken on clients as young as 16 if they are a student athlete or needing to lose weight to prevent to dangers of obesity and diabetes.
Do you provide daycare?
We do not have supervised daycare however, we do provide a kids room that includes a television and DVR for children to watch movies as well as access to wifi for them to bring their own electronics.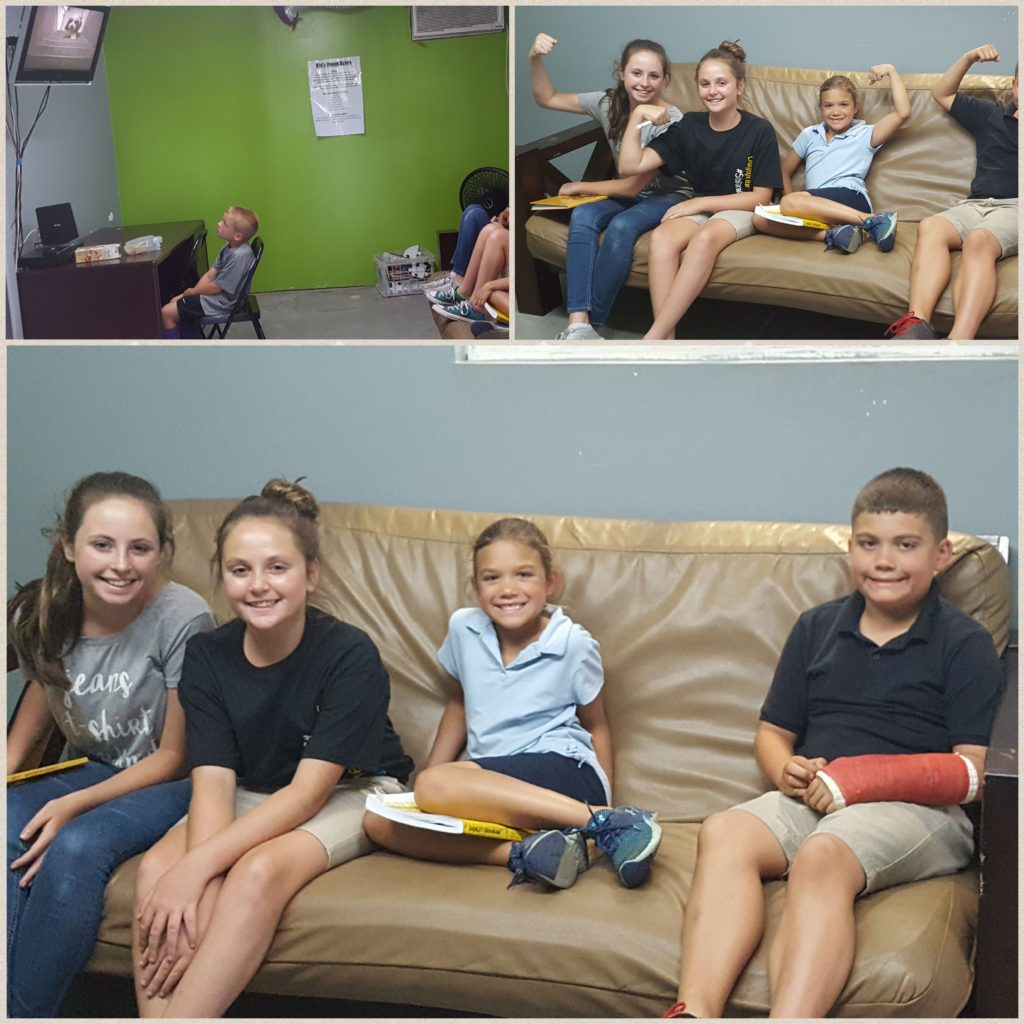 Do you have personal training available? What is the cost?
Yes we provide group personal training! We add a personal touch to things by making things… not so personal.
What I mean when I say this is that all of our training is done in small groups instead of one on one.
This removes the fear of intimidation and puts you with people that have similar goals and maybe even friends or family if schedule and availability allow for it!
PT Pricing and Registration ==>> www.DerekKuryliw.com/pt-with-derek
Is this bootcamp good if I'm a beginner and not in shape?
Yes, our bootcamp is designed for beginners and we have members of all ages, abilities and physical conditions.
How do I cancel/suspend membership?
To cancel your account please click on the link below. All cancellations are processed within 3 business days.
How do I sign up for bootcamp?
You can sign-up/register for bootcamp using the following link:
www.dererekkuryliw.com/5-free-workouts-and-meal-plan/
What is the cost (investment in YOU)?
Each month of bootcamp has a registration fee that includes A MINIMUM of 16 hours of instruction with certified personal trainers!
Our plans range from $4-5 per day depending on single, family or our Community Heros plan.
Bootcamp pricing and registration ==>>
www.derekkuryliw.com/livefit-bootcamp-pricing/
Plus with our UNLIMITED sessions format, you can take your fitness as far as you'd like with up to 52 options of Bootcamp training sessions per week!
Where else can you get fitness instruction for that incredible price?
I typically charge $40 to $80 per hour for one on one personal training – this is a great opportunity to receive motivating fitness instruction by 4 of the top trainers in the Tampa Bay area for just a fraction of the cost in a friendly and motivating group environment.
**Plus, after your initial 4 weeks you'll have access to HUGE savings on multi-month and yearly plans if you want to upgrade your current plan. (up to 53% off our weekly rate)
All LiveFit programs include: exercise mats, resistance bands, dumbbells, TRX, battle ropes, all necessary equipment, 1-3 personal trainers per training session, small group sizes as well as…
UNLIMITED weekly bootcamp workouts
Specially designed daily warm-ups to properly prepare you for each workout.
FREE Friend Friday- bring a friend to bootcamp free every week
Comprehensive meal plan with food swaps and desserts
At home workouts and stretching routines in case you miss a workout or want to push yourself extra
Monthly live nutrition seminar and Q&A with Derek
FREE entry into all our Transformation Challenges throughout the year…
Register now…it takes less than 30 seconds!
*ONLINE REGISTRATION ONLY. No debit or credit card required. No recurring charges.
No catch. No gimmicks. If you like your experience, we would love if you would consider us as your coaches to help make a life changing transformation.
All our plans offer NO CONTRACTS and you can CANCEL ANYTIME w/ only 72 hours notice!
We stand behind our results 100%. Your success is our success!
After completing the form below you'll be redirected to your 5 FREE Workout certificate. Please screenshot or print your certificate to show to your trainers before your first workout. You'll complete a waiver at our facility before you begin your workout and you're ready to go!
7037 Elizabeth Avenue, Bayonet Point, 34667