Guest blog by bootcamper: Sara Crosswhite
On April 9 2013, I decided I was over feeling tired, being out of shape and having no energy to play with my two small kids. I searched on the internet for many different things, gym memberships, classes, and boot camps.
I came across newportricheybootcamps.com I looked at the website and the location and decided I would call. I spoke with Derek and set up an appointment to go the next day for a bootcamp session and to get information regarding his program.
I was so nervous and excited at the same time. I went the first day I honestly don't remember the first bootcamp session, I do remember meeting with Derek after and him asking me my goal, he said would you like to do a fitness competition. I laughed out loud and said "no way"!
Since day one I was addicted I loved each session, some more than others but they all still were great.
I talked about attending bootcamp so much with my husband and sister in law they started to attend a month later!
As a teenage I had some issues with eating disorder. I had times in my adolescence and young adulthood where I would have been classified as Anorexic.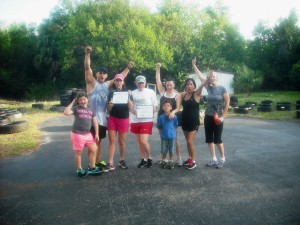 So when it came to losing weight I did not have a good history with doing it in a healthy manner. I knew with two small children watching me I had to loss weigh and become healthier in a positive manner.
I really watched what I said around them I did not want to say I had to lose weight or I feel fat because I did not want them to pick up on negativity of body image I may have been feeling.
I continued to attend bootcamp four times a week and participated in each challenge that Derek would put out there. I lost weight and gained muscle and was feeling so much better about myself. 
Then in September 2013, I attended The St. Pete Classic in which two fellow bootcampers were competing in the bikini division.
That evening I said I wanted to do that to my husband, who then informed Derek. And from that point it was kind of joke.
Then 13 weeks ago I sat down with Rich and Derek and asked if it would be possible for me to really compete. They both said yes, so I committed to doing my first bikini competition June 7, the Tampa Bay Classic.
The 13 weeks of training had its ups and downs, mostly ups. I had a few setbacks and doubts in myself throughout the 13 weeks. But Derek, Rich and my training partner Jen Klo-J seemed to know when I needed that extra push or the extra kind word to give me the hope I could do this.
During training I spent a lot of time away from my family but my husband, Shawn, many of you may call him "Beard", was AMAZING, many nights he would feed the kids dinner and put them to bed.
He stepped up so much to help me achieve my goal. He never made me feel guilty for being away or putting more of the household responsibilities in him.
I can't say Thank you enough to him, he is the best supporter ever!
6 days away from my competition date I was lifting at home and I was tired and unmotivated. I looked down and I was wearing my undergrad college sweatshirt and I remembered my high school guidance counselor saying to me I would not be able to go there, I said "watch me".
I needed that determination, passion and fire within myself to continue to push through the last 6 days of training. I found it amazing how things around me seemed to give me what I needed to get to my goal.
I just competed in my first bikini competition this past Saturday, there was 14 women in my division. I felt AWESOME; it all came together, the training, the diet, the practicing poses, and all the prepping for the day.
After it was all over all I said "that was that was fun, I am going to do that again".
So August 23, Lakeland Bodybuilding Classic here I come!
I encourage everyone to set a goal, any goal. It gives you the extra push and reason to train. It helps drive you to do what is best to achieve your goal, even when you don't feel like it or you're feeling down on yourself.
My life and my family's lives have changed since April 2013, we are healthier, we are happier and we have made lifelong friends along the way.
LiveFit bootcamps is not only the place I train, it is really a home away from home. I enjoy going there and being able to see friends and challenging myself every day.
I hope anyone reading this finds their goal and has meet people to give them the encouragement and extra push we all need at times.
2014 Tampa Bay Classic bikini competitor,
Sara Crosswhite
Here's an update on Sara's journey:
Since that statement was made in September 2013, I have competed in 7 NPC Bikini Division shows.
I have placed 4th twice, 3rd twice and 1st once.
The last two years I have learned a lot about myself, my body and what works better with my diet and training when competing.
My fitness journey started with Derek to just feel a little better about myself and it has turned into a new career and opportunity to help others feel better and live healthier lives for themselves and their own families.
I do not know if I will complete again next year I am still thinking about it, however I am excited to be part of team Livefit Legion to help others who are interested in competing prepare to present the best version of themselves.