Shawn Bosel is our Nutrition Accountability Coach and Social Media Manager for LiveFit Bootcamps. Take a minute to learn a little more about Shawn!
Where are you from?
I was born in Illinois, but shortly after moved to Wisconsin and spent most of my childhood there. It wasn't until I was 16 when I cam to Florida. Pretty much have been here ever since!
First lifting or athletic experience:
First athletic experience was just being your typical young boy. I played outside very regularly and got a good amount of exercise then. I always admired bodybuilders of the 90's and aspired to one day compete. I didn't get into lifting until midway through high school, but once I did, I was instantly hooked! After that, my training was fairly inconsistent. It wasn't until 2011 at the ripe age of 28 when I really started to apply myself and learn about training and nutrition. That fire hasn't stopped and I continue to seek knowledge from reputable sources. I'm at the point now where fitness needs to always be a part of my life.
Something unique about you or life experience:
Something unique about my life experience are the tasks I choose to do. I tend to take on things to challenge myself and always have. The biggest personal challenge started just four days after high school graduation (2001) where I started my Marine Corps journey. While enlisted I was able to do many great things, including being a part of operation Iraqi Freedom and Enduring freedom in 2003. I actually had my 20th birthday in the middle of nowhere in Iraq. In 2005 I was deployed to Haiti and had my 21st birthday there. Not the typical experience for a young man, but I wouldn't have changed it for anything. It really made me grow as a human, and as a man.
Out of nowhere in 2010 I decided to take my next big challenge and thus, leads to my next unique life experience. I ended up losing around 50 lbs. and competing at the end of 2011 in my first bodybuilding competition. I continued my fitness journey and competed again in 2013 (four times that year). I am currently in an extended offseason, but I know I will step on that stage again.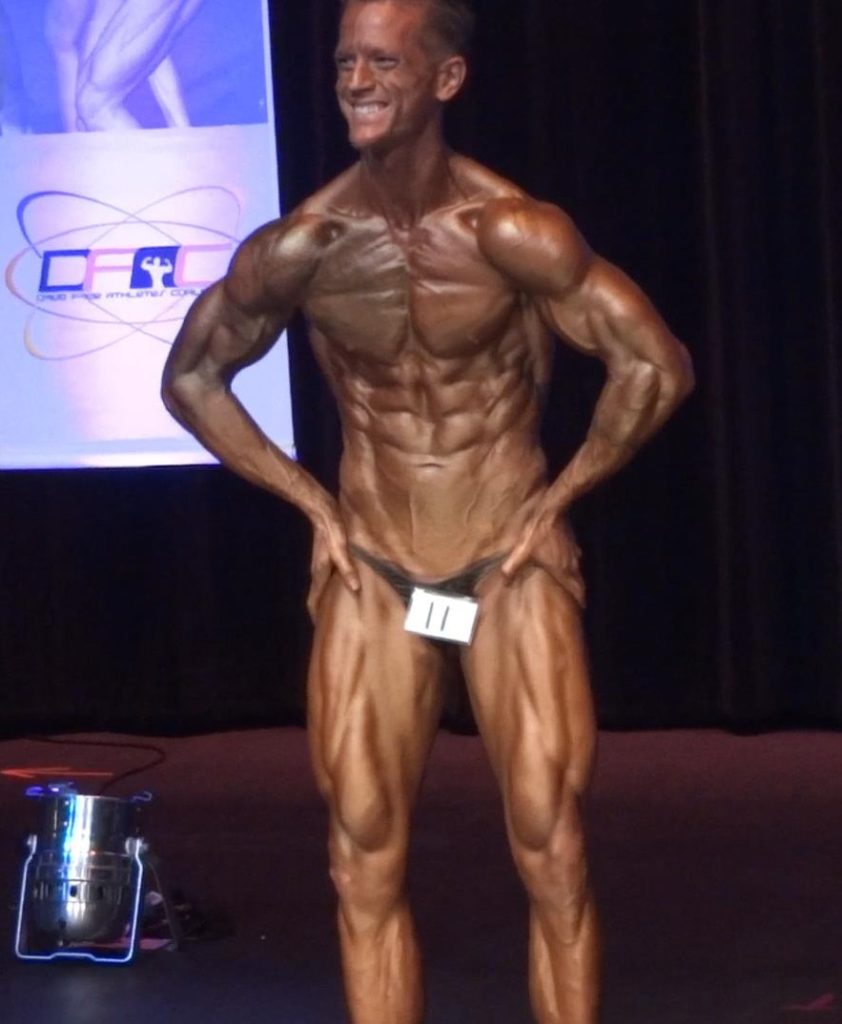 Theses are a couple notable life experiences and I hope to make many more in the future.
Biggest lifting accomplishment:
My biggest lifting accomplishment was in 2013 when I competed in a powerlifting competition. I ended up going 9/9 and got nearly a 1k total including a 365 lb. squat and a 400 lb. deadlift all while being 165 lbs. bodyweight.
Favorite client success story or accomplishment:
My favorite client success story would have to be when I helped a friend of mine get his diet under control. He ended up losing over 50 lbs. and actually was eating more food after losing all of that weight, than when we first started his diet. He ended up with a much healthier body and totally eliminated any health issues that he had before working with me.
Your favorite type of client to work with:
My favorite client is the one where I know they are doing what they need to do to accomplish their goals. Somebody that will ask questions for clarification, but knows I have their best interest in heart and will carry out the plan with surgical precision. Somebody that will not give up and will continue to fight, even when hit with less than ideal conditions. Somebody that is good with communicating so that I can best help them accomplish their goals.
Favorite quote:
"Ain't nothing to it, but to do it!"
~Ronnie Coleman