Where are you from?
I was born in California. I moved to Ft. Lauderdale Florida when I was 5 and lived there until I moved here to Port Richey when I was 15. Been here ever since.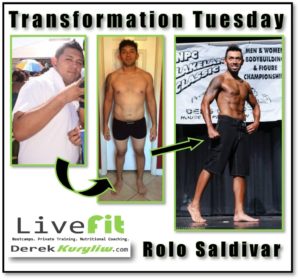 First lifting or Athletic experience:
Ive played different sports like baseball, flag football but majority of my life I've always played soccer. Ive always played team sports until I decided to pursue the sport of bodybuilding.Since starting as a bootcamper at Livefit, it was there where I started lifting weights.
Something unique about you or life experience:
I would say that something unique about myself is the fact that I've worked in different trades growing up. Having a strong work ethic has always been important to have. Managed a restaurant, massage therapy, construction, business owner, and now a personal trainer too.
2015 marked the beginning of a journey in my life where I began to compete as a physique competitor. I been able place in some of the competitions that I took place in and now I'm currently pursuing in moving up a division and continue this journey.
Biggest Lifting accomplishment:
Up to now, I would have to say squatting 315lbs for 5 reps has been my biggest highlight. Only been lifting for 2 years but clearly am pursuing to get  past that.
Favorite client success story or accomplishment:
I have recently started working as a personal trainer at Livefit now in 2017. But my start was as a bootcamper before that. I hope that my work ethic and accomplishments up to now have lit a fire to push further beyond.
Your favorite type of client to work with:
I like someone who is try to be the best possible version of themselves. Someone who doesn't make excuses, always ready to learn, and not willing to quit.
Favorite quote:
"It's only when we're pushed to our absolute limits that we can truly shine." Vegeta, Dragonball Z.