Rich Berrian is the Head Trainer at our Live Fit Bootcamps training facility in New Port Richey, FL
Where are you from?
I was born in Port Richey and have lived locally all of my life. Up until this year I have never even left the state!
First lifting or athletic experience:
Growing up I was never involved in team sports aside from weekend football at the local recreation center with my friends. When I was 14 my aunt took me to Walmart to pick out what I wanted for Christmas and for some reason I was drawn to a weight set! I started lifting in my backyard and the more I worked out the more addicted I became. I started researching all sorts of topics involving working out, nutrition, exercising, and eventually bodybuilding. I've been hooked ever since!
Something unique about you or life experience:
The majority of my childhood I was homeschooled and not really socially involved in much of anything. I ended up ditching my homeschooling due to working fulltime, but enrolled to take the GED test and got my high school diploma upon completion. I then went on to attend PHSC and graduate with my degree in Computer Programming and Analysis.
Year you were certified as a trainer:
In 2009 I got my certification as a CPT (Certified Personal Trainer) through a highly recognized company by the name of ISSA (International Sports Sciences Association).
Biggest lifting accomplishment:
I really have not lifted for strength or numbers in the past but plan on trying to compete in powerlifting in the near future. With that being said, I have benched 280lbs, squatted 365lbs, and deadlifted 455lbs. Stay tuned for bigger numbers!
Biggest fitness accomplishment: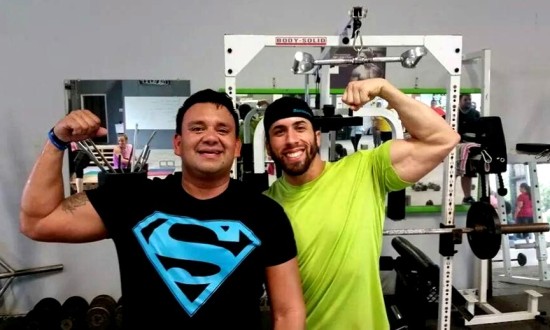 I have competed in four bodybuilding shows; two in 2012 and two in 2013, placing 2nd as my best thus far. I have taken 2014 off from competing but will be returning to the stage in 2015!
Favorite client success story or accomplishment:
My favorite client success story AND accomplishment goes to Richard Blum. He started training at approx. 130lbs, had cirrhosis of the liver, couldn't hold any food down due to medical treatment, and was practically on his death bed.
Over the last few years of staying strong and never letting life break his marine mentality to never give up, he has become an animal! He is now 190lbs of raw muscle and has gotten certified as a personal trainer and I am extremely happy to say that we share the weight room floor together!
Your favorite type of client to work with:
My ideal client is anyone that has a desire to improve their overall health as well as commit to putting in the time and effort on the journey to achieving their goal!
Favorite quote:
"Quick, quick, quick!"
"Can't stop, won't stop!"
"Hard work beats talent when talent doesn't work hard."
"Outwork."