Transformation Tuesday blog by: Kristen Mitchell
My name is Kristen Mitchell and I was asked to write a bit about my my experiences with LiveFit. I am very nervous about writing this but feel like maybe something I say can help to inspire someone else to choose to live a healthy life.
Joining LiveFit has definitely changed my life, my body, and my spirit.
I have had trouble with my weight my entire adult life.
I missed out on a lot growing up because of it. I was embarrassed to go out. I didn't have a lot of friends, hating going to the beach, I couldn't fit on roller coasters…never played sports, and hardly went out. And clothes…clothes were always the enemy but something I desired so much.
Doing the smallest things was so hard…tying on my shoes, bending down to pick something up, doing laundry or dishes, grocery shopping.
I tried everything under the sun…every quick fix I could find and nothing worked because they only helped for a short time. And now…the sky's the limit.
"My Ride Or Die," Cindy Smith, started this whole change for me. She called me on a Sunday afternoon last August and said "You're going with me to LiveFit on Monday…NO OPTIONS"! I said fine not realizing she meant the next day…I thought I had a week to have a last hoorah!
I went very hesitantly…and it was the best day I've ever had.
I wouldn't be here if it wasn't for her. She has pushed me and supported me the whole way. She has started a change in that will last a lifetime.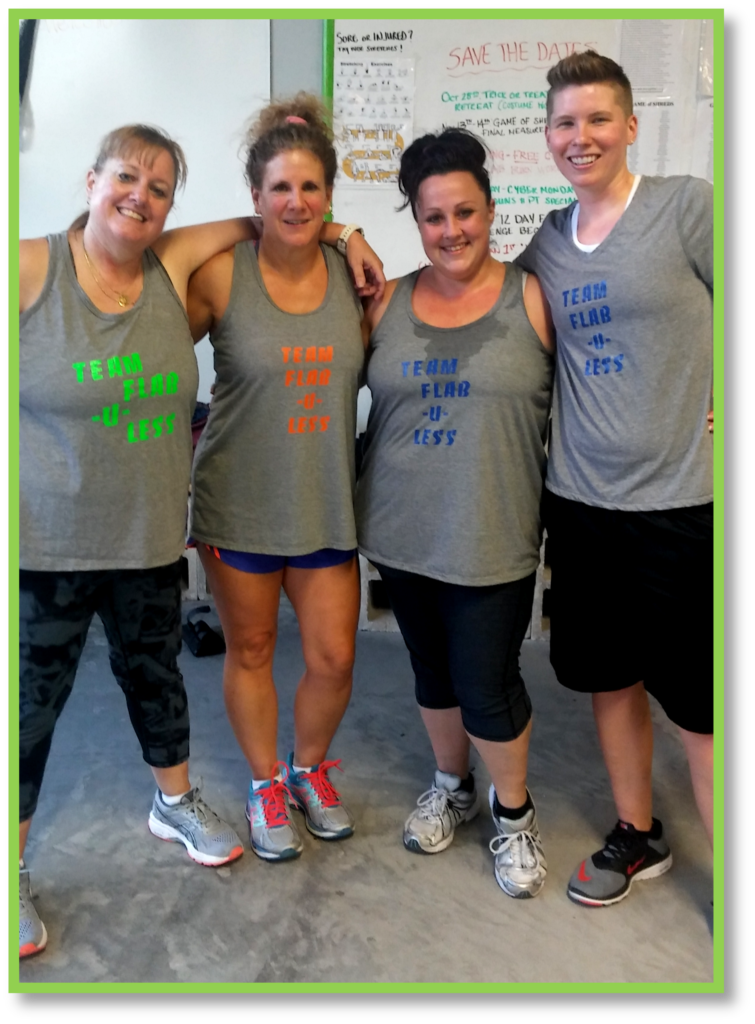 My biggest motivation is my son, Nicholas. He is a very active, on the go, 9 year old. I have always struggled to keep up with him, wanted to play with him, run with him. And now he's my #1 Cheerleader. Nicholas comes with me to bootcamp and watches me and cheers me on. He's even run laps with me telling me to keep going. He always encourages me and pushes me to work harder!
My biggest fear starting this was not being able to even do the workouts. I thought I was too big to even try. I was scared that I wouldn't be able to keep up. It all seemed so impossible to me watching everyone else.
After being there for 6 months now, I've lost over 45 pounds and have been given my life back.
I remember not being able to run a half lap around the building before walking and now I'm up to 2 laps and running the whole time. I can complete the workout sessions, I'm consistent with my workouts, and have changed my eating habits.
I love the "challenges" that LiveFit does…it really drives me to do better…
I'm a little competitive. I keep pushing through to reach my 100 pound goal, to be able to shop "on the skinny side", to be able to tuck my shirt in and wear a belt, to be able to run around with my son and play.
It's not easy…believe me.
Having a friend with me or around me always helps keeps me on track. My "Flab-U-Less" team pushes me everyday to reach my goals and I push them right back.
Meal prepping is a big thing for me. If I don't, that's when I get in trouble and fridge raid. I always have a Quest bar handy, some Greek yogurt, and my bottle full of ice cold water.
I try not call what I'm doing a "diet". I can never stay on a diet…I would always fail or fall off of it and never get back on. I call this my "healthy lifestyle". I bend a little here and there…who doesn't! But the important part is it's not all the time and I get right back into my routine.
Now…I can do anything I put my mind to!
I was always afraid to go out to eat. Would I fit in the booth? Would I have enough room against the table? Are the chairs ok? I fit just fine!
There's room between me and the steering wheel that I haven't seen in years. Shopping…forget about it! I'm addicted! I finally have the confidence to try on my clothes. I'm out of big and baggy and into fit and fabulous.
I have written on my mirror at home "I'm worth it. I will succeed. Consistency. I am beautiful." I see those every morning and every evening. My sisters Val and Michelle are an inspiration to me and knowing that they see the changes in me and are proud of me makes me that much more motivated. My parents are the same way. That recognition and compliments drives me to work even harder.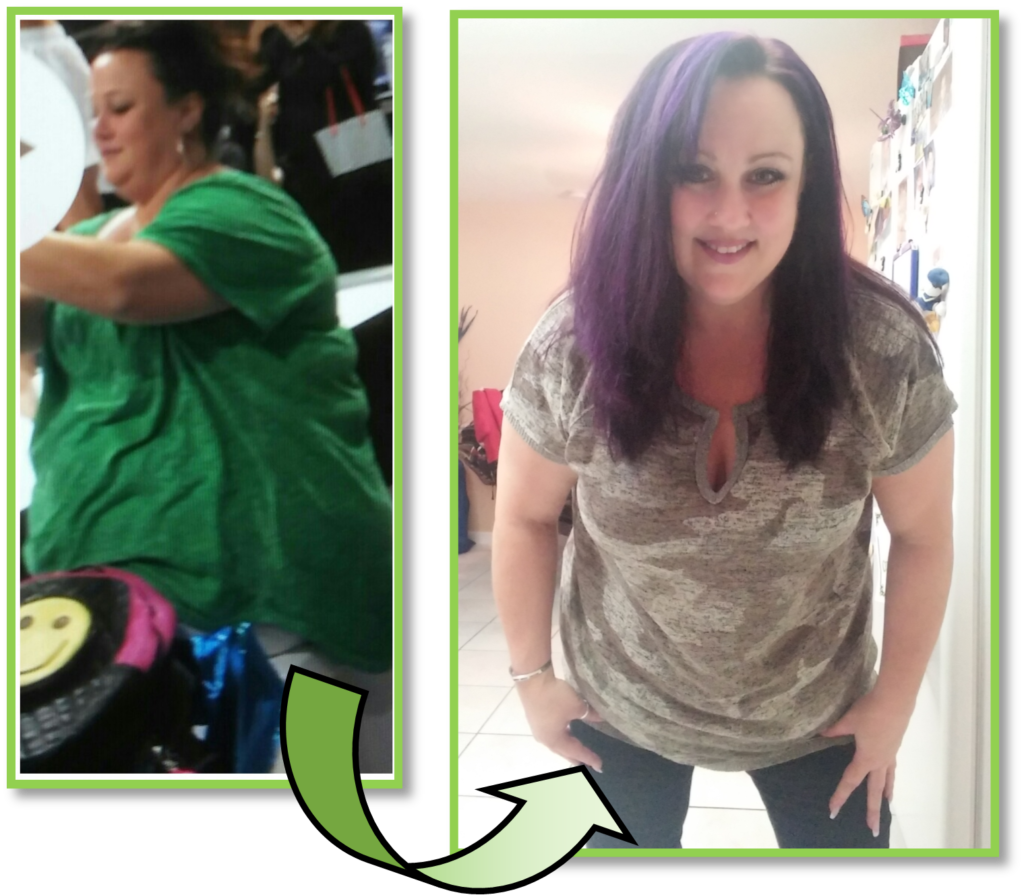 The staff at LiveFit is unlike anything I've ever experienced. Derek…Kirsten…Micki…Rolo and Ashley are amazing people. Rolo is on me "like white on rice" and I wouldn't have it any other way. They all push me when I'm ready to give up and keep me going.
I've quickly become addicted to crazy stuff like V-Ups, Mountain Runners, Sprints, Sledge Hammers, Lunges, Squats, and Crunches. If you told me a year ago I'd be pushing Tractor Tires around and loving it, I would have told you where to shove that tire! Now…I'll tell ya to bring it!
I have definition in my arms and legs, confidence I only dreamed of, and an amazing extended family. I am who I am…take it or leave. I can truly say that I love who I'm becoming. I am happier, healthier, confident, energized, challenged, and motivated!
I don't think of myself as a role model or inspiration to others but I've had some friends want to start a program like this because of the change they see in me. That makes me feel amazing. Don't give up on yourself…even when you fall. "Fall seven times…get up eight".
Never give up on yourself and your goals…no matter whats happens or how many times you start over. Anything is possible…and that's a true story!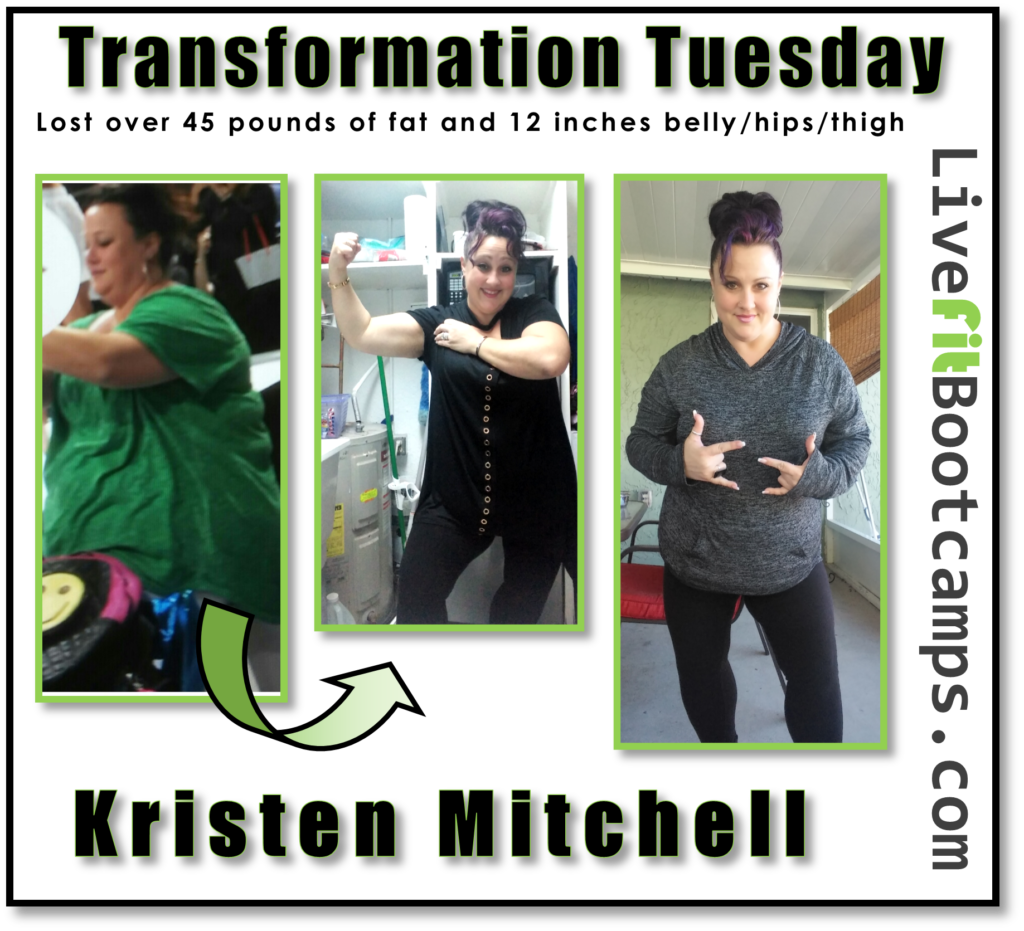 Who is your bootcamp for?
Any woman or man who is either lost or having trouble starting their own personal transformation to living a healthier and more energetic life.
Moms who want to get their bodies toned and set an example as the leader of her family.
If you're a beginner and scared of gyms.
You are not sure what to do, or how to do it…and how many times. (and thinking about this gives you so much anxiety that you want to quit before even starting.)
If you're looking for a supportive community of positive, like minded people on the same journey as you.
People going through the same struggles and daily busy schedules to help keep you accountable, pick you up when you need a kick in the pants or a caring hug after a tough workout.
If I just described you and your current situation, then we are for you!

What's in it for you?
EVERYTHING you need to make a major life changing, head turning transformation. We include all of the tools, support and accountability to keep you motivated and on track.
2 weeks of UNLIMITED bootcamp workouts
an easy to follow 14 day meal plan (over 70+ meal options)
a free nutrition seminar the 3rd Thursday of each month at 7:40pm
at home fat burning workouts for extra results or missed workouts
healthy dessert recipe guide
at home flexibility program to relieve pain, eliminate soreness and feel younger!
These are the SAME EXACT meal plans and workouts that all of the transformation stories you've seen on this site used themselves!
Where does your transformation begin?
7037 Elizabeth Avenue, Bayonet Point 34667  one block northeast of the 19/52 intersection
When can you start looking and feeling better?
Start NOW and attend as many instructed 1/2 hour bootcamp sessions as you'd like for 2 weeks for only $1!
Beginners are encouraged to attend either our beginner sessions initially until you're acclimated and ready for a greater challenge.
Please arrive 15 minutes early your first day.
After your first session you can attend as many workouts as you'd like, anyday, anytime!
Why now and why me?
Because it's time to put YOU first!
Chances are if you are reading this, YOU are the type of person who has all the right ambitions and motives to get into shape, lose weight and feel better but…
YOU put everyone in your life's needs before your own and it's adding up and taking it's toll on you mentally and physically.
Guess what? That's not working for YOU!
If you are a dedicated team player, YOU are exactly the type of positive, motivated and well rounded person we are looking for to make the ultimate physical transformation to end this summer. It's time to focus on you!
No one is ever left behind at our bootcamp. No injury, age, lack of experience or coordination will hold you back from being successful in our program.
All you need is the desire to get better…everyday!
We give you all the tools to be successful:
Fun, challenging and constantly changing workouts daily to keep you from getting bored and stagnant
Daily emails, text and facebook support from the LiveFit staff of 5 trainers, 2 assistant trainers and 2 administrative staff
Accountability to show up, stay consistent and not give up on yourself.
Easy to follow meal plans and nutritional advice to learn what to eat, not just start and stop another typical diet.
The most positive community of hard working women, men, parents, grandparents and people just like you, that are going through exactly the same thing you are going through and there to help you every step of the way.
How do I become the next LiveFit transformation?
To get started, complete the simple registration form below and you'll be redirected to Step#2 of your registration where you get our membership options, your 14 day slimdown meal plan, healthy recipes, dessert options and FAQ…

Check out these amazing bootcamp transformations!