Guest blog by Transformation Tuesday success story and bootcamper: Darleen Palmieri
I became a single mom of three and was worried about all of our health.. I wanted us to get healthy! But I wondered, how can I get the kids to become healthy if I didn't set an good example?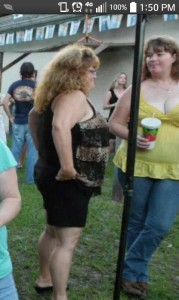 I had high blood pressure and a thyroid problem. I was on 5 blood pressure pills and thyroid meds.
We joined the gym as a family. We went 2hrs a day, 5 days week. I figured that should do it.
I stepped it up and I went 7 days a week for a year, and was losing some weight but nothing to get excited about. I paid for personal training at the gym but could only afford once a week. That wasn't cutting it.
I met Gwen,(a  bootcamper), at  Jason's shop (Hard Body Sports Nutrition, a nutritional and supplement store)  talking about bootcamp and a guy named Derek Kuryliw and how good it worked.
I talked to Jason about it and decided to called Derek. When we spoke, he was so passionate about it. I told him I was out of shape and didn't think I can do it. He told me to bring my son with me because he needed to lose weight too. He said I will see you tonight, "just trust me."
I showed up with my son, it was tough but so rewarding. Everyone encouraged and helped us! It was like joining a family!
I was not the best at everything at first, I couldn't do a sit and reach or even run. Everything was difficult.
Now I can do them with no problem! 
I can run!
I did my first mud run and finished ALL the obstacles!
I look in the mirror and can't believe what I look like.
I have gone from a size 24 to Jr. 11.
I am fit and I am addicted to working out.
Derek taught me how to eat. Half your battle starts in the kitchen and it does.
I worked out at least 3-4 hours a day, 7 days a week, but like he always says; "You can't out train a bad diet".
I lost weight because he cares. He educates you on food, shows you how to work out and has a nutrition accountability program. You have all the tools you need you just have to do it.
His knowledge he has taught me helped me when I had a car accident and was out for 3 months. I didn't gain a pound, and I even lost several pounds!
I would tell anyone who wants to lose weight and not sure how to get started, please come to bootcamp!
The hardest part is to show up but, I promise you once you do you will regret waiting so long to do it.
We are a family and we are all there to help.
I came back wearing a brace,  and even though he had to modify my exercises, I am still losing and I will make my goal!
There is no excuse possible for you not to come. Derek will find a way for you to workout. He modifies any exercise there is for whatever injury you have, BUT he can't help you if you don't show up!
My doctor is amazed because I am off my blood pressure pills! My thyroid is still inactive and we are working on it, but I'm still losing weight.
So please, get off the couch and join us because you will regret it if you don't.
Every day you get better and better. Showing up is all you have to do!
I get upset if I have to miss boot camp. I look back and think I wish I knew about Derek a long time ago.
My kids have lost weight because we are eating healthy, and have made a lifestyle change.
I can't thank Derek enough for giving me my life back.
I went from guys telling me I am not in their league to having guys of all ages asking me out. Makes you feel good about yourself!
Thank you Derek, for the first time in a long time I like taking pictures. Before I lost the weight I would hide from the camera.
Writing this is making me cry because I still can't believe I can and have lost weight!
All I can say if you show up I will help you, just like I got help from fellow bootcamper Jamie Adcock when I started.
So if I need to do an extra lap or extra workout, I am there for you.
You will always find me lifting, twerking and dancing at bootcamp no matter how tired I am!
————————————————————————————————————-
Darleen's story is remarkable to say the least!
Since day 1 she has always had an incredible attitude and a willingness to try anything.
She isn't afraid to fail.
That's an important element to success.
Fear is everyone's greatest limiting factor.
Stepping out of your comfort zone always causes fear…for everyone!
But, if your desire to succeed is greater than your fear to fail you can become an incredible success.
You see, fear can actually be a strong motivator.
You should fear getting unhealthy.
You should fear not being able to enjoy the best life possible.
You should fear what will happen if you do not change what you don't want in your life.
Because unless YOU take action, and YOU make the decision that the old way is worse than whatever lies ahead in your new quest for a leaner and healthier body and life, it will NEVER get any better!
Darleen has known from day one that this wouldn't be an easy journey.
She's dieted, worked out at gyms, spent countless hours on the mouse wheel (treadmill), tried supplements and what ever else she thought could help her along the way.
Did any of it work? Maybe, sorta, kinda.
So why was she successful?
Because no matter what, she kept pushing on and knowing that the old way got her to this point and that anything new couldn't be any worse than that!
That persistent path eventually led her to our bootcamp.
Yes her story is remarkable but, it is no where close to being done.
Because she will keep taking on new challenges and overcoming new fears for the rest of her life.
This is her new life…the 'Fit Life'….and she's never looking back!
Committed to your fitness success and the next phase of your journey,
Derek Kuryliw, Certified Sports Nutritionist & Personal Trainer Slim Fit Diet & Fitness, CEO/Founder …for questions or comments derek@slimfitdiet.com or 727.851.SLIM
Try the ultimate fitness experience of my fitness bootcamps. Every night is a new challenge of athletic and explosive training for all ages, previous injuries and ability levels. Get your first 2 weeks for only $1, No Catch, No Gimmicks…Just Results: www.NewPortRicheyBootcamps.com