Guest blog post by Michelle Kuryliw (aka "the wifey")
So the other day, I was NOT in the mood to cook dinner! Sometimes when trying to cook healthy, I hit a dead end. So I fought against going the easy route and getting take out. I grabbed my lap top and googled healthy recipes for chicken and beef.
Well I came across a gem of a recipe! SUPER easy, QUICK, and best of all, great muscle building food! Total recipe: 100 grams of protein and 60 grams of carbs. Fat quantity depends on quality of beef.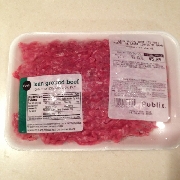 Beefy Rice Skillet
Ingredients:
1 pound lean beef ( I used 93% )
1 can of diced tomatoes (undrained)
2 cups of frozen mixed vegetables
1 cup of instant brown rice (uncooked)
2 cups of beef broth ( lower sodium, optional)
1/2 tsp of salt
1/4 teaspoon garlic powder
Please add any other seasoning to your taste! I added crushed red pepper and adobo seasoning.
Directions:
Cook ground beef with salt and garlic powder in a deep 12 inch skillet, until beef is no longer pink.
Add all remaining ingredients to skillet, and stir to combine.
Bring to a boil. Cover and reduce heat to medium-low.
Cook 5 minutes or less or until the rice is tender and mixture if of desired consistency.
This recipe has my name all over it: quick, only a few ingredients, delicious, filling, hearty and protein packed!
Plus, math isn't what you would call my strong suit…so I especially like how easy it is to make a double or triple batch so Derek and I have lunch for the next few days.
For a quick and on the go lunch option prepare your tupperware containers in 1-2 cup portions. Just heat and eat!
I hope you find this helpful and beneficial in your quest to fitness and a healthier life!
-Michelle